Overview: Diverse Voices Find Common Cause
2000 Workshop: Push Quality, Feed Hunger for Humanity in Race Coverage
By Victor Merina
As participants gathered for the second Workshop on Journalism, Race and Ethnicity, the diversity of attendees was as striking as the variety of stories and issues that became the focal point of the three-day Columbia University conference. From across the country and across cultures came reporters and editors from small newspapers and large metropolitan dailies, producers from network news magazines, and news directors from local television stations. Before the weekend ended, participants heard from a white network news anchor; a black Pulitzer Prize-winning reporter; a Japanese-American filmmaker; an African-American cartoonist; a gay, Hispanic television news executive; and a half-dozen editors and broadcast managers who are among the most influential women in journalism. 
In all, more than 40 journalists took part in the workshop, sponsored by the Graduate School of Journalism and funded by the Ford Foundation. Under the banner of "Let's Do It Better," participants explored how to produce more meaningful and insightful coverage of race and ethnicity in America, topics that many journalists still view as too volatile or risky. "Whenever race comes up in the newsroom, fear comes after," said Barbara Ciara, an anchor for WVEC-TV in Norfolk, Va., in reminding her colleagues to resist timidity.
But even as those words resonated through the weekend, there were reminders of the good work that is being done, including Ciara's own honored broadcast – "The N- Word" – which tackled why many African Americans use a racial epithet so demeaning to blacks. Following a model established by last year's inaugural gathering, the workshop honored such exemplary work and used the dissection of those stories to stir frank discussions – proving that after race enters a room, enlightenment can follow.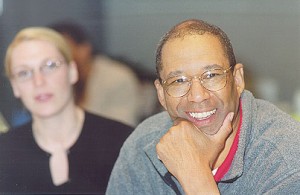 Other honorees included CBS News anchor Dan Rather, cited for his role in the network's coverage of the dragging death of a black man in Jasper, Texas, and Angelo Henderson, a Wall Street Journal reporter whose body of work included a Pulitzer Prize-winning story of a robbery that left a black suspect dead and the white pharmacist who shot him struggling with the aftermath.
Ramon Escobar, executive producer at MSNBC, also spoke about his work on the award-winning entry from Miami's WJTV-TV that looked at Florida's Hispanic population, while adding his perspective as a gay Latino in a key decision-making job.  And two honorees – filmmaker Emiko Omori and cartoonist Aaron McGruder – provided a different journalistic voice. In Omori's case, it came through her powerful documentary chronicling her Japanese-American family's experience in an internment camp during World War II. For McGruder, it was the edgy, rarely heard attitudes of young black kids living in a white suburb, depicted in his controversial comic strip, "The Boondocks."
Other honored work was published in Newsday, The Sacramento Bee, The Washington Post and The San Jose Mercury News, as well as aired on ABC News "20/20" and CBS News "60 Minutes."
In all, the seven print and seven television honorees were selected from more than 120 workshop entries. They shared their work with 20 media "gatekeepers" (or newsroom managers).  And as participants analyzed the stories – led by those who had reported, edited or produced the pieces – discussion included not only how the pieces could be replicated but also how they could be improved.  It was, one observer noted, "honorable deconstruction."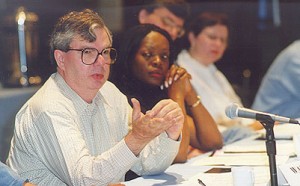 The stories themselves explored themes such as how demography becomes destiny when more immigrants or newcomers arrive in previously white communities. Some stories loosened the awkward dialogue about race and allowed journalists to push the frontiers of coverage. Others explored racial identity and examined thorny issues such as the experience of African-American students who are criticized by fellow blacks for "acting white." Finally, there was lively discourse over how to recruit more journalists of color – and how to keep them in the newsroom as their retention rates continue to lag behind white counterparts.
In their exposure to examples of outstanding journalism, workshop participants also were reminded of obstacles to stories of greater depth and nuance, notably the feeling among many journalists that race stories are beyond their comfort level. "The waters are deep and dark," said honoree Lonnae O'Neal Parker of The Washington Post, "but I firmly believe this is where the treasure's buried."
In mining that treasure, some clear themes emerged during the weekend as honorees and gatekeepers alike shared practical tips on how to improve coverage. Among the suggestions:
Push quality – Encourage fresh, evocative stories that match the audience's increased sophistication. Avoid the predictable while searching for the surprising.
Feed the hunger for humanity – Readers and viewers are not weary of race-related stories, but they are tired of bland or ponderous stories that largely repeat what they already know. Ignite interest and strengthen stories with the use of memorable characters and vibrant human themes.
Dive deeper – Time is often the enemy of excellence. Nonetheless, find ways to learn more about under-covered communities, especially in periods of calm rather than crisis. Even when deadlines loom, find ways to add threads of context and dabs of history.
Deploy different lenses – No matter who covers a race-related story, make sure that journalists of color are part of the editorial process. They can often draw on experiences and insights that will strengthen coverage.
Press beyond black and white – While black-and-white relations remain the nation's most insistent problem, news organizations also should master demographic changes in their own communities and broaden coverage of the multicultural swirl.
Sharpen management – While greater newsroom diversity is important, managing it effectively is equally vital.  Gatekeepers must build trust and nurture talent, which often means creating a climate that fosters frank discussion of race coverage, encourages mentoring of journalists of color and includes the concerns of white journalists.
At the end of the workshop, the participants indicated that they were leaving with a sense of humility and a clearer sense of how they could strengthen their own coverage.  They spoke of taking action back in their newsrooms – from offering Spanish lessons for staffers to restructuring beats to making sure talented minority journalists are cultivated. Some gatekeepers also found renewal. "My gas tank has been re-filled," said Sidmel Estes-Sumpter, executive director of WAGA-TV in Atlanta, adding that she was "blessed" and "enriched" by the people she met at the workshop.
            That sense of revival grew out of not only the plenary sessions but also the small-group discussions and private conversations that became even more candid as the weekend progressed. There were chats about coverage and newsroom dynamics during simple walks around the city, at the dinner table, and even while watching playoff basketball games in hotel rooms. It was a yeasty mix – darts of criticism, words of high praise, flashes of insight, bursts of laughter. It was the sound of people stretching – and learning.